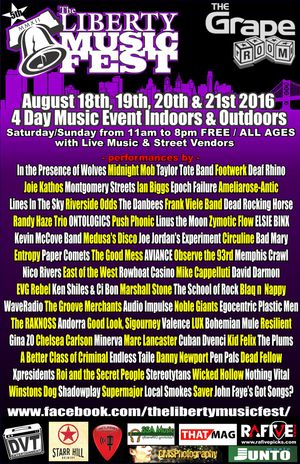 On Sat. Aug 20th- RSP took an early roadtrip into Philladelphia for whats been an annual event celebrating LIVE music in and around the City of Brotherly Love- LIBERTY MusicFest. A fantastic weekend literally jampacked with all kinds of music on 2 stages, in and outside the Graperoom. DVT Entertainment puts this killer weekend together and we were inpressed with their professionalism and organization.We arrived pretty early in the heated day and right off the bat- the 1st band we saw inside the Grape Room (who was off to headline the Trocidaro theatre) was good enough to know "it was on". We ended up playing a good 35 min. set and then headed off for an interview with
Unclaimed bands 
. Ended up back in the Grape where we caught a kick ass band from NJ called
Wicked Hollow
. A Guitar riff driven rock band right up our alley. By the time we left we had heard everything from acoustic to rap to rock to alt and a mishmosh of everything in between. a GREAT time. AND THEN... on the way home we stuck in a traffic jam where we literally didnt move for an hour. uuuggghhhh....people were out on the highway walking dogs, watering and feeding horses and others opening coolers for beverages and what not. We were about to take advantage of an idea to get out shoot a video of us walking around everything for a future music video idea- but the traffic started to move... so that was kiboshed.
Anyway- was cool to meet some new friends, make new contacts and do our thing once again in Philadelphia. We'll be back. 
On Sunday the 21st we played at the Freinds for Freedom event held at the Fearless Fire Company where the lineup consisted of all local area bands from the LV raising money for the Smith family. It took Glen and I our GPS to find it - it ended up being a really great time. The sound was a bit iffy onstage -but the bands were all excellent and the bartender was really cool so i was very happy. An interesting mix of folk, all of whom really love live music and were there to show their support for the family.Hats off to the organizers- that did this on a small time frame and pulled it off to what hopefully made a difference .