Our Story
Renowned for their exciting live shows, Roi and the Secret People (RSP) features the mesmerizing voice of Mike Roi and the musical talents of Craig Martyn on drums, Jason Hedrington on Moog/Keys, Glen Radomski on bass and Ed Golden on Guitar. Roi, who hails from South Florida, set out to assemble a group of talented, experienced, and like-minded musicians to create the version of rock music he was raised with. Armed with all original music, RSP has played such renowned clubs as Rockwood Music Hall, Mercury Lounge and Arlene's Grocery in New York City and The World Live Cafe, The Northstar Bar,  The Tin Angel, and The Legendary Dobbs in Philadelphia. In 2019 RSP played to a packed out crowd at Musikfest in Bethlehem,Pa.as well as being nominated in several categories for the 2015, 2016, 2017,2018 and 2019 LVMA's. RSP Won 2 awards in 2017 for "Most Outstanding Rock Band" and " Outstanding All Around Performer - Mike Roi".
RSP's first album, Dog St., includes a variety of tunes from the stunning, haunting song, "Firefly," to the balls-to-the- wall sound of the title track "Dog St." Their newly released 2nd album, Phoenix, blends Roi's pop sensibilities with an alternative rock twist mired in sounds from the likes of Nick Lowe to Tom Petty. Roi has been known to say that all he needs is a good bottle of bourbon, a good cigar, and a guitar to create the kind of true-blue, sexy, and salt-of-the earth music that has captivated audiences in up and down the Eastern seaboard. Eclectic, diverse, and thoroughly original, RSP is a band that combines a classic rock vibe with a lyrical, wholly unique sound. RSP released their first vinyl limited edition vinyl with Truck Stop Sushi which came out in April 2017. In Feb 2019 the band released their follow up record with "RSP- LIVE at the 5Acre Fest"
Meet the Secret People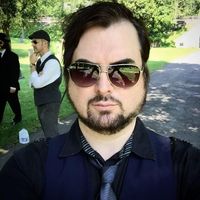 Mike Roi – Vocals/Guitar 

Black Book Magazine called Mike Roi one of the 8 greatest up and coming artists "who create vibrant, unconventional music in spite of living outside the center of the cool New York." With his bands Brother Grimm, ROI, and Roi and the Secret People, he has garnered rave reviews in such publications as Good Times, Spin, Rock N Roll Experience, and Target Audience Magazine as well as received radio play time on college and internet radio across the country. With his magnetic stage presence, powerful voice, and deft lyrics, he has proven there is no genre he cannot master - from Southern and hard rock, to Indie and folk. Roi has been singing in bands since the age of 16 and has been pursuing his passion for the kind of soulful music he grew up with ever since. He has played up and down the East Coast as well as in Europe and has opened for such renowned acts as The Black Crowes, Midnight Oil, and Marilyn Manson.                                   
Craig Martyn – Drums-
Craig has played the lengths of both the East and West Coast circuits 
collaborating with such famed artists as Night Ranger and Sam 
Kinison, and was especially focused in the LA region during the major hard rock decade. In addition to drums, Craig has a talent for singing and has been compared to Michael Anthony, bassist of Van Halen, for his ability to reach high-note background vocals. After relocating back to the East Coast, Craig became involved with Roi and the Secret People in 2012 and his thirty years of musical experience has added a polished dynamic to the group.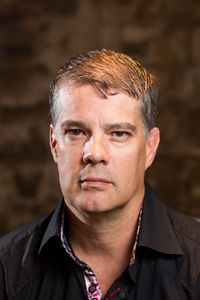 Glen Radomski – Bass   
Glen studied with Dave LaRue of Dixie Dregs / Steve Morse Band in the early '90s and played the East Coast in a few funk/fusion instrumental bands.Just some of Glen's music accomplishment include playing for and recording multiple CD's with Scott Bradoka and going on tour in Germany with Dickey Betts to Robert Cray and The Hooters in 2008. The riffs on Glen's bass guitar could first be heard with RSP in 2013.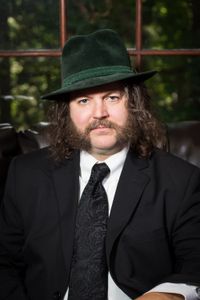 Jason Hedrington - Moog/Keys  

From his Music studies at the University of Wisconsin-Eau Claire where his Blues band was awarded House Band residency to playing in 50 bands over 27 years Jason's been nominated as Lehigh Valley Keyboard Player of the Year 10 times and his various projects have been awarded Live Band of the Year, Best Album of the Year, and Jam Band of the Year while touring from St. Louis to Limestone, Maine. His love of Outlaw Country poets is as deep as his love for Prog-Rock, and he figures his career highlight was the time on tour supporting the Frank Zappa tribute band Project/Object when Zappa alumni Napolean Murphy Brock yelled at him for touching his saxophone.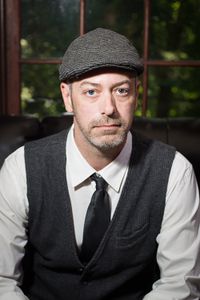 Ed Golden - Guitars

Ed's musical background includes touring with groups like Ruff House and the theatrical band Rasputin in the late 80's and more recently the eclectic jamband, The Skulldiggers. 
As a solo artist, his original compositions and performances can be heard in several documentaries and various media. Ed was Martin Guitar's Custom Shop Manager and Lead guitar Designer as well as a Martin Clinician and Artist before opening his own shop in 2013.